February 11, 2020                                
Dear Fellow Shareholders:
I would like to personally extend my sincere appreciation for your continued support of Marine Bancorp of Florida, Inc. It was a banner year for Marine as we continued increasing loans and core deposits, posted record profits and increased the value of your investment.*
| Results (in thousands) | 2019 | 2018 |
| --- | --- | --- |
| 1st quarter earnings | $353 | $291 |
| 2nd quarter earnings | $392 | $185 |
| 3rd quarter earnings | $412 | $160 |
| 4th quarter earnings | $457 | $162 |
| Full Year Earnings | $1,614 | $798 |
| | | |
| Earnings Per Share | $1.18 | $0.59 |
| Book Value Per Share | $16.68 | $14.74 |
| Outstanding common stock shares |   1,364,632 | 1,364,632 |
Marine experienced asset growth year-over-year with $286 million in total assets as of December 31, 2019 compared to $270 million as of December 31, 2018, an increase of $16 million or 6%.
Loans outstanding as of December 31, 2019 were $242 million as compared to $218 million on December 31, 2018, an increase of $24 million or 11%. In 2019, Marine closed 298 loans for a total of $113.6 million in new loans that included $50 million in commercial loans helping 132 small businesses grow, resulting in new job creation, $62.5 million in mortgage loans that assisted 166 families in purchasing or refinancing a home and more than $1 million in consumer loans.
Total deposits as of December 31, 2019 were $257 million as compared to $245 million on December 31, 2018, an increase of $12 million or 5%. Non-interest-bearing and low-interest-bearing checking accounts increased to $109 million as of December 31, 2019 compared to $102 million as of December 31, 2018, an increase of $7 million or 7%. Please note, personal and business checking accounts are the most challenging banking service to get customers to move from their current bank, but also the most valuable to the Bank when they do.
Consolidated net income for 2019 was $1,614,214 compared to $798,642 for 2018 resulting in an earnings increase of $815,572 or 102%. Strategic investments from prior years that positively impacted earnings were:
Our Sebastian Office, acquired in October 2016, has grown to $32 million in deposits.
Our Melbourne Office, opened in early 2018, has grown to $12 million in deposits and $20 million in loans.
Our loan production office and commercial mortgage brokerage business in St. Lucie West opened in late 2019 and is building a good pipeline of new business. We expect this will have a positive impact on our 2020 earnings.
We are focused on providing a good return to our shareholders, which is best measured by our Return on Equity (ROE) and are making steady progress toward our goal of 10% ROE in 2020 and 12% ROE in 2021.
Return on Shareholders' Equity

2018 Full Year

4.06%

2019 Full Year

7.43%

4th Quarter 2019

8.09%
Because of our strength and continued financial performance, Marine Bank has maintained a 5-Star Superior rating from Bauer Financial, the premier bank-rating organization that reports on and analyzes the performance of banks. Marine Bank was named among the top extraordinary banks in the United States by The Institute for Extraordinary Banking and received the Institute's Banky™ Award for the second straight year for our commitment to strong community banking.
Please join me in welcoming Kristina Moylan and Janet Rascati to the Marine Bank Team. Kristina is our newest commercial lender and long-time Vero resident with an excellent track record in commercial banking and Janet is our new Controller. Welcome Kristina and Janet!
The common stock of Marine Bancorp of Florida, Inc., the holding company for Marine Bank & Trust Company in Vero Beach, Florida, is now trading on the OTC Market Exchange under the ticker symbol MBOF. This will increase the visibility of our company and will provide shareholders the opportunity for greater liquidity. To assist our shareholders with their trades, Marine Bank has engaged D.A. Davidson, a banking industry specialist in providing market making services. Michael Acampora of D.A. Davidson is ready to assist with any questions or inquiries you may have regarding buying, selling or your current ownership in Marine Bank. Mike can be reached at (904) 456-6153 or macampora@dadco.com.
When you participate, we all profit from Marine's growth! Please remember to refer friends, family members, business associates or someone you think will be a good customer of your Bank. Over the last three years, more than 99% of the respondents to our service survey said they would recommend Marine Bank to others, so you can be assured we will exceed their expectations. I have included a shareholder referral form in this mailing.
For timely information about the Bank and its activities, please follow Marine Bank on Facebook and LinkedIn. Your "likes" and "shares" are important! Every contact we make helps increase awareness of the Marine Bank brand. We are providing our followers with value-added financial tips, news about the Bank, the communities we serve and special account offerings.
Please note that our annual shareholder meeting will be held on Wednesday, April 22nd at 4:30 p.m. at 571 Beachland Blvd, Vero Beach, Florida 32963 in the main lobby. We hope to see you there.
I personally would like to thank you for your trust in our management team and Board of Directors, and your support and continued interest in your Bank's progress. With our move into St. Lucie County in 2019, a new business line and team of seasoned bankers, you can feel confident that our team will continue to focus on growth and profitability to increase the value of your investment. Please let us know how we can best serve your financial needs.  
Sincerely yours,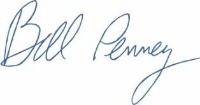 President, CEO &
Chairman of the Board
*Note: the financial results discussed above are unaudited. The audited financial statements will be available at the annual shareholders' meeting in April (as noted above).