May 11, 2020 
Dear Fellow Shareholders:
In early March 2020, Marine Bank was moving toward a first quarter of record earnings. However, when the COVID-19 pandemic struck, the world was turned upside down.  Despite the resulting economic turmoil and the upheaval of our routine workflow and operations, Marine Bank and our holding company, Marine Bancorp of Florida, Inc. managed to achieve record earnings and asset growth.  Please settle in. This is a long, but informative letter.
Income
Net income for the first quarter 2020 was $600,000, up from $353,000 in the first quarter 2019 for a 70% year over year improvement. Earnings improvement was due to growth in the customer deposit accounts and the loan portfolio. Additionally, the initiatives we undertook last year began paying off as we experienced significant growth in our newest banking centers, an increase in loan origination fees and swap income (where we provide a long term fixed rate to the borrower and through an intermediary, we receive a floating interest rate) mitigating any interest rate risk to the Bank.
Financial Growth
Your Bank has experienced asset growth year over year with $312 million in total assets as of March 31, 2020, compared to $278 million as of March 31, 2019, an increase of $34 million or 12% growth rate. Loans outstanding as of March 31, 2020, were $256 million as compared to $226 million on March 31, 2019, an increase of $30 million or 13%.  Total deposits as of March 31, 2020 were $281 million compared to $254 million the same time last year, an increase of $27 million or 11%.  Our non-interest and interest-bearing checking accounts, the key to customer relationships, grew to $118 million as of March 31, 2020 compared to $104 million as of March 31, 2019, an increase of $14 million or 14%.
Because of its continued strength and financial performance, Marine Bank has maintained a 5-Star Superior rating from Bauer Financial, the premier bank-rating organization that reports on and analyzes the performance of banks. Please check our stock ticker MBOF on otcmarkets.com to view the trading and market value of your stock.  
Effects of the Coronavirus Pandemic
The pandemic has vastly changed the way we operate and serve customers.  Our Executives meet weekly for intensive discussions on how to proceed in this ever-changing environment using these guiding principles:
1)     What does success look like at the end of this ordeal?
2)     Are all the decisions we make consistent with our core values? 
We entered the situation with the best asset quality in over a decade. At the end of the first quarter, Marine had no 30-day past due loans, no non-performing assets and no substandard rated loans. As the business community shut down and employers furloughed their employees, we made the decision to offer all borrowers in good standing (virtually all our borrowers) a four-month payment forbearance. This was backed up by regulatory guidance stating this practice of working with good customers was encouraged and the loan modifications would not be counted as troubled debt restructures.  We had 72 customers with loans totaling $36 million in loan payment deferrals take advantage of this offer. 
The health and safety of our customers and employees is our top priority and thus far, no employees have contracted the virus. My communication to the team has been clear and strong:  Nobody gets sick on my watch; we'll provide the rules and tools, but you must practice safe behavior. We encouraged employees who could, to work from home. Currently, 20% are working remotely but remain connected through technology and Zoom video conference meetings.  We have also invited local health professionals to join us on our weekly Zoom all employee meetings to provide the latest health and safety information. 
The Bank has maintained regular banking center lobby hours. Teller transactions are conducted via drive-thru and transactions with customers in the lobby must maintain the required social distancing of six feet.  Portable sinks outside the front doors, requiring all employees to wear masks or face shields, providing protective and sanitary items, and cleaning surfaces have helped customers and employees stay safe.
The SBA Paycheck Protection Program brought new challenges.  The first round of applications for the government funding became available on April 3, 2020 and the Marine Bank team produced 230 loans for $32 million, creating paychecks for 3,300 local employees for a period of eight weeks. In round two of applications, Marine originated 411 loans for $25 million creating paychecks for an additional 2,700 local employees for a period of eight weeks. For comparison, this is the average number of business loans we process, approve and fund in a five-year time frame. 
How did we accomplish this? We redeployed two-thirds of our team members to help process the loan applications. Using our new work-from-home capabilities, we processed these loans at all hours to meet the program requirements and to keep capital flowing to the businesses and their employees in our community. Please join me in thanking and congratulating Team Marine on this accomplishment.
Financially, we know the balance sheet will expand for approximately three months while we hold these Paycheck Protection Program loans but will return to normal once the notes are paid off via debt forgiveness from the SBA. We anticipate some of these loans will remain with us if the borrowers cannot fulfill the debt forgiveness requirements.  We expect significant loan origination fee income later in the year from processing these loans.
Our portfolio is well-secured with high character borrowers, but we will continue to build our loan loss reserves in anticipation that some borrowers may not recover from the economic effect of the pandemic.
Our diligence and communication have provided Marine Bank with an incredible opportunity to demonstrate why it is important to have a relationship with a community bank. The large commercial banks have been overwhelmed with these loans and have, as a result, disappointed many of their customers due to delays and lack of communication.  As a result, we are acquiring new relationships and have received numerous thank you notes from our customers recognizing our efficiency, responsiveness and willingness to help. Although we do not yet know how long this environment will last, or what recovery will look like, we continue to analyze and update operational procedures to ensure we are doing everything necessary to support our customers until things return to normal.
For ongoing information on the effects of the Coronavirus, please follow us on Facebook and LinkedIn and visit our website to keep up with changes related to the pandemic and how it might affect the way you bank.  We have added several customer thank you videos and comments that attest to how grateful they are for the Bank's quick response to the Paycheck Protection Program applications.
We have rescheduled our Annual Shareholder's Meeting to Wednesday, June 24th at 4:00 p.m. in the lobby of the Bank at 571 Beachland Blvd, Vero Beach.  If we are still required to practice social distancing in June, we will hold a virtual meeting and will provide you with instructions on how to access it. 
While this has already been a challenging year with an uncertain future, Marine Bank has received positive press and word-of-mouth marketing opportunities that will result in growth from this unfortunate situation.  Rest assured, our Board and Marine Bank employees are working harder than ever to capitalize on these opportunities.
We're in this together.  Stay safe and healthy!
Sincerely yours,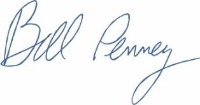 William J. Penney
President, CEO & Chairman of the Board