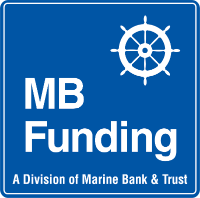 Marine Bank has announced that longtime area resident and career lender Bill Casey has been hired to head the Bank's new strategic business line, MB Funding.  As a lender specializing in commercial real estate loans, construction loans, government-backed small business administration (SBA) and USDA loans, condo and homeowner association loans, and commercial lines of credit, Marine Bank has launched MB Funding, a loan brokerage service, to help those businesses whose loan applications were not approved for a conventional bank loan.
"By leveraging our access to hundreds of lenders we know locally and throughout the country, Marine Bank will be able to serve our local businesses who need capital to grow and succeed," said Bill Penney, President and CEO of Marine Bank.  "Bill Casey has been a local community banker for nearly 30 years. His commitment to assisting local businesses hear those wonderful words 'you're approved!' make him a perfect fit for Marine Bank and our new venture."
In addition to providing businesses with access to alternative financing options, Casey will also be growing the Bank's expansion into new markets by managing the Bank's new loan production office at 240 NW Peacock Boulevard, Unit #303 in Port St. Lucie which is expected to open before 2020.
Casey began his banking career in 1989 at Barnett Bank of St. Lucie County followed by stints at Harbor Federal, First Bank of Indiantown, Harbor Community Bank and other community banks. Prior to joining Marine Bank, Casey opened his own financing company with the goal of helping businesses obtain funding for their specific needs.
Casey was born in New York City and has lived in St. Lucie County since 1970. He attended Indian River Community College and graduated from Florida State University. He is a four-year veteran of the U.S. Air Force and is currently active in the Fort Pierce Rotary Club, Elks Lodge, and Treasure Coast Seminoles Club.  He is married to Fort Pierce native Beth Casey and they have four daughters.